Andrew moore
American photographer Andrew Moore began photographing in Cuba in 1998, and over the next fourteen years he made ten further visits, working to reveal the many facets of the island's unique character and life. Working with a large format camera, Moore insightfully records the shifting fortunes of Cuba, in superb photographs full of painterly light and dynamic color. His images span a tremendous variety of subjects, ranging from humble interiors to magnificent modernism, as well as portraits and landscapes. One theme is the contrast between the frayed patinas of Cuban homes and the great, unspoiled beauty of the island's nature. Cuba is a stirring portrait of a country isolated from the globalized world, overflowing with its own remarkable riches.
In his series on Detroit, Andrew Moore records a territory in which the ordinary flow of time-or the forward march of the assembly line-appears to have been thrown spectacularly into reverse. For Moore, who throughout his career has been drawn to all that contradicts or seems to threaten America's postwar self-image, Detroit's decline affirms the carnivorousness of our earth, as it seeps into and overruns the buildings of a city that once epitomized humankind's supposed supremacy. Moore locates both dignity and tragedy in the city's decline, among postapocalyptic landscapes of windowless grand hotels, vast barren factory floors, collapsing churches, offices carpeted in velvety moss and entire blocks reclaimed by prairie grass. Beyond their jawdropping content, Moore's photographs inevitably raise the uneasy question of the long-term future of a country in which such extreme degradation can exist unchecked.
The photographs of Andrew Moore (born 1957) are represented in the collections of the Metropolitan Museum of Art, the Whitney Museum, Yale University Art Gallery, The Museum of Fine Arts Houston, the Library of Congress, the Israel Museum, the George Eastman House and the Canadian Centre for Architecture.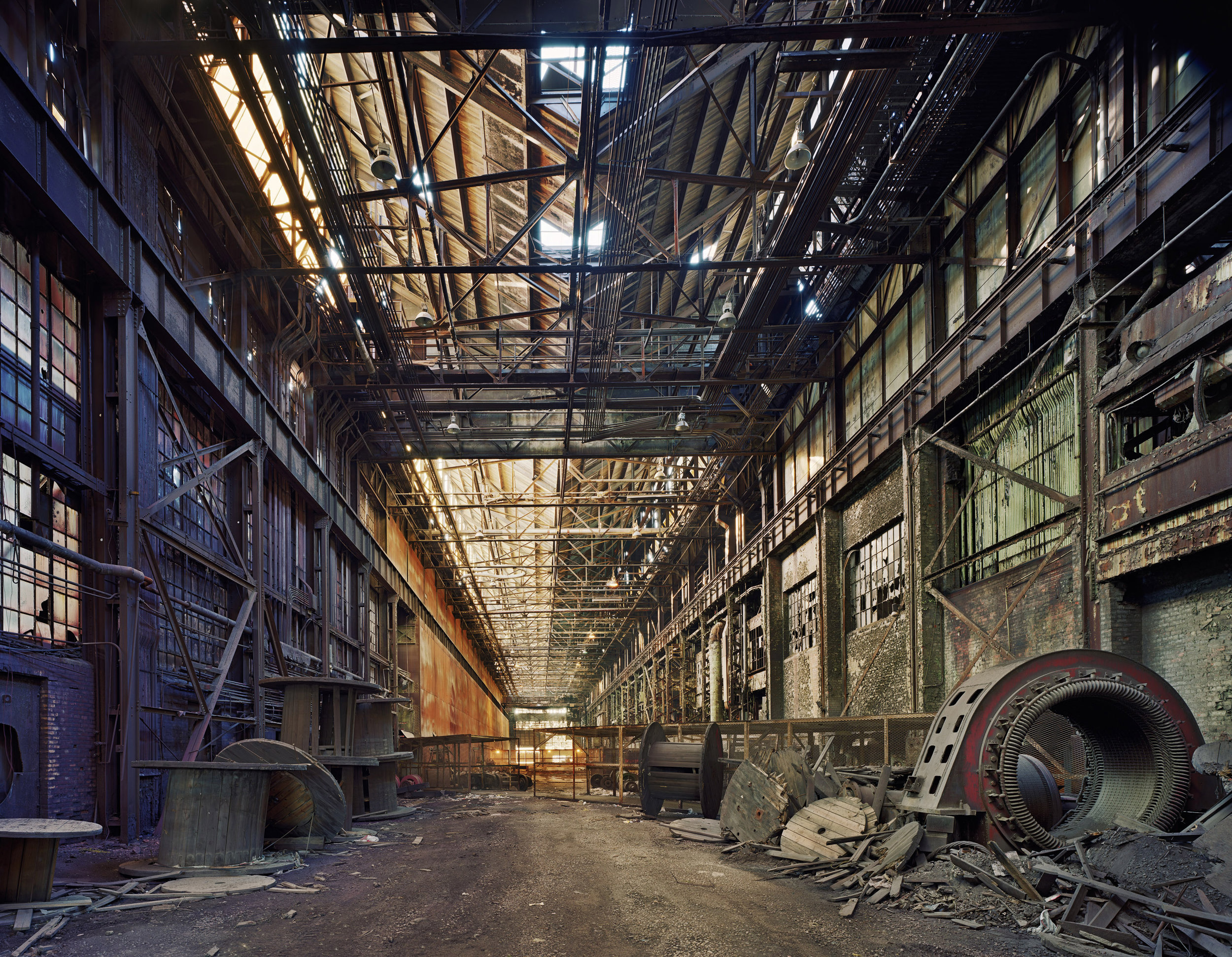 Rolling hall, Ford Motor Company river rouge complex
Color chromogenic print
Signed edition of 5, printed 2015
Sheet 51 x 61 cm, Image 43 x 53 cm (16.8 x 21.0 inches)
$5500
Puente de Bacunaya guaVia Blanca, 2012
Color chromogenic print
Signed edition of 5
40 x 50 inches
Inquire for details